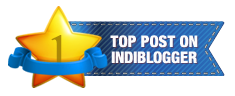 The Little One was too naughty and fussy....
On the day, the Mom became angry and stopped talking to him for a while, he straight away asked his dad, "Dad! Why's Mommy not talking to me?"
"She is angry dear! Don't worry she'll talk when she cools down!" assured the dad....
The next day, the Mom boiled a Potato for the Little Boy, left it on the Table telling him, "Let the Potato cool down.... Then you can eat!"
The Boy instantly exclaimed, "Oh! The potato is angry!"
On a cloudy day evening stroll with her friend and the Little One by the side with his umbrella, the Mom casually commented, "At one stage in our life we should have some shelter of our own on our head.... Else the rented accommodations become a burden as well as problematic...."
The boy suddenly said aloud, "Mommy, Look! I've my own shelter here!" showing his finger at his opened little colorful umbrella....
The Mom gave the boy his glass of milk and said, "Dear! You should beat daddy in drinking your Milk!"
The boy promptly gave a beating to his dad next to him and started drinking his milk!
The boy returned from abroad to India and as he was transported in car to the Home, he could see many vehicles and people on the Road....
Seeing his reaction, the Mommy said, "Dear! We are now in India! Here, there are many people, cars and buses on the road!"
The boy understood that and subsequently any one asked him, he used to say, "I am in India!"
On a day, the Little One noticed a few Workers working by the side of the road....
"Dear, see! They are working hard in the Sun!" said the Mom with a smile....
After a while, the boy saw another group of Workers eating their Lunch in the shade....
Seeing them, he instantly said, "Mommy, Look! These are working soft in the shade!"
On another day the family was going to a Picnic Spot away from the City and as soon as they were out of City on to a lengthy Tank Bund road by the side of a huge lake, the boy suddenly exclaimed, "Oh, No! India is over!"