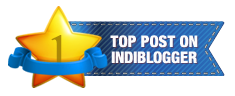 It was the early morning hrs of the day..

The man just about to open the tap of his bathroom wash basin, saw a small Black Tiny Creature busily moving at the bottom of the basin and he suddenly stopped that action saying within himself..

'Thank God! I acted timely.. Else the Tiny Creature would have been washed away in the stream of gushing waters to drain and further bottom down in no time ending it's existence instantaneously.. And knowingly, I have no right to do that where Mother Nature forever Protects..

Let me do my part of duty here and save it in the right time..

I should take it out from there and leave outside..

But, the problem here is.. Any touch would be too much for the Creature..

Then how to bring it out safely?

Yes! The better idea here is.. Try with a white paper.. A thin white paper kept near to it will help as the Busily Moving Creature would sure get on to that if I wait.. Then leaving it out would be easier.. Let me do this very important work first.. Rest can definitely wait!"

The man thus became busy and went to the next room to get a white paper so that the Black Tiny One could be seen clearly on that..

Meanwhile, his little girl got up from bed, came to the washbasin to have a wash and was about to turn the tap..



"Ooh! Dear! Wait for one sec.. Don't, don't open it.. I'm coming.."
The man shouted from behind and ran to the basin..

But no way.. That Message could not overshoot the girl's action followed by the man's helpless look down at the basin water gushing out with sudden force.. All instantly happened!

And the next moment....

The Tiny Little Black Creature busily moving in the white basin seen crystal clear under the bathroom bright light from above..

Instantly flew off beautifully from the basin escaping the dangerous gushing waters ready to smash it, flew further up and up and finally vanished from the Scene in no time!